Description
Standard Wall Panels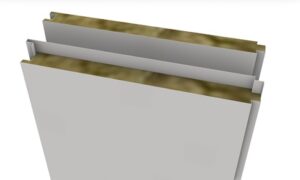 Dip Hot γαλβανισμένη λαμαρίνα, πάχους 0,6mm. Οι πλευρές είναι κατασκευασμένες από γαλβανιζέ λαμαρίνα με 150 microns PVC ή από ανοξείδωτη λαμαρίνα ή σκέτη γαλβανιζέ λαμαρίνα ή προβαμμένη. Το ύψος του Panel κατασκευάζεται σύμφωνα με τις υποδείξεις του πελάτη.
Άκαυστη (πιστοποιημένη) και μη τοξική κόλα ναυτικού τύπου (low flame spread).
Εσωτερικά: Mineral wool.
---
Standard version consists of the following panel types
i. Panel 50mm και/ή 25mm: Για χωρίσματα.
ii. Panel 50mm και/ή 25mm: Για χωρίσματα με αγωγό για καλώδιο.
iii. Panel 50mm και/ή 25mm: Για χωρίσματα με αγωγό για πολλά καλώδια.
iv. Panel 50mm και/ή 25m: Για χωρίσματα με εσωτερική ενίσχυση τετράγωνης κούφιας ατσάλινης στήλης.
---
Electrical Installation
The electric cables are installed during standard panels manufacturing or later, during its installation. The electric cable is placed inside the cableway duct and taken out through the hole, on the panels surface, by special tool.
---
Special Panels
"T" shaped panels. Corner and wide-angle Panels are forming a construction which prevents water from penetrating into the walls causing corrosion on the steel deck. The wall panels are installed, case to case or beside the steel coating. Panel side is either coated by 150 microns PVC or Stainless Steel or plain galvanized or pre-painted. Panel height as well as width are manufactured according customers wishes and specification.